Get Ahead with St Peter
Following the success of the May 2021 course, this course will be offered again in 2022. (dates to be announced late 2021). Please get in touch if interested. Places will be limited to ensure the highest level of individual support.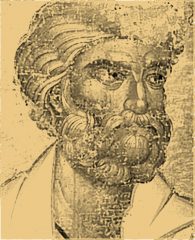 Outline:
Course Fee: TBC
Course length: two weeks
Contact time: 18 hours via Group Zoom sessions, variable via individual support
(Materials not included)
Overview:
This two week online course will concentrate on the essential skills of blending flesh colours and painting facial features in the Byzantine tradition and will be delivered online via daily live zoom sessions and pre-recorded material.You will be directed to complete various stages in advance of each zoom session with remote support provided.
Description: St Peter is a quite literally a foundational figure to the Christian story and therefore central to the iconography of both Eastern and Western Christendom.
Painting: Inspired by the classic, late Byzantine icon of St Peter (c.1320) in the collection of the British Museum (see link above), we will paint our own version of this work and concentrate on the vital skills of mixing flesh colours, blending flesh tones, depicting facial features and hair. We will also work on the Byzantine system for the proportions of the face. Gilding is optional.
Learning: As a group, we will explore and compare the functional, iconographic and formal aspects of the Byzantine icon and it's Italo-Byzantine and Trecento counterparts.
Contemplating: On the spiritual side, we will think about the two letters of Peter, his life, his role and his message.
Booking: This course will be offered again in the late 2021 (date tbc). Please email if you are interested, places will be limited.
Resources included: Icon patterns, colour copies, handouts, access to recorded material for the course duration.
Specialist materials required: A professional quality icon board will be included in the cost of the course. There are options on the type of painting ground/support and paints, according to your level and budget. Participants will be sent lists of everything required before the start of the course. Students will be able to pre-order discounted specialist icon painting materials and equipment in advance.
Gold Leaf Supplies: Exclusive Discount Icon Adventures students booked on a current course will also receive an exclusive 10% discount from our partner supplier, Gold Leaf Supplies of Bridgend.
Level: The courses are suitable for those with previous icon or other painting/practical art experience (e.g oils,/acrylics, gouache, or printmaking). Those new to icon painting should note the there will be a (long) list of materials and equipment to obtain and the painting process will probably take longer than expected.
Platforms, Delivery & Support: The courses will blend live Zoom sessions and pre-recorded content, supported via Google Classroom and WhatsApp. Details of how to access the Google Classroom resources will be sent in advance. Individual mentoring will be available via zoom and WhatsApp.
Essential IT Requirements: Laptop/desktop/large tablet with good audio facility and reliable internet/wi-fi, a smart phone and email. Help with IT is available. N.b., It is not possible to do this course without a computer and a smart phone.