Franciscan Icon Painting & the Art of Assisi
Description:
St Francis (ca. 1182-1226) is probably the most popular and beloved saint in western Christendom, with an 800 year old history of artistic representation. This four-week, online course provides a unique introduction to Franciscan iconography (and its important influence on western art) as well as the spiritual discovery of Il Poverello through three Paths: icon painting, art history and digital pilgrimage.
This course is designed and delivered by Helen McIldowie-Jenkins and based on many years teaching and leading pilgrimage in Assisi, Helen's academic study of early Franciscan art and her experience as a third Order Franciscan (OFS).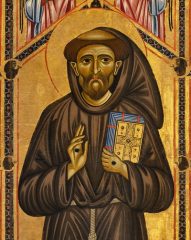 Pax et Bonum!
Start Date Thursday 17th February, 2022
Course length 4 weeks
Tuition 4 Weekly Online Seminars + 8 Video Tutorials
Support WhatsApp/email
Course Fees
(Inclusive of a bespoke gessoed panel and a specific pigment)
Full Fee: £195.00 GBP
Icon Adventurers/Waiting List: £175.00
Concessions: £ Variable. If you are a member of a mendicant order, have mobility issues which prevent you travelling, are in receipt of benefits or want to supply your own panel, then please contact Helen.
Booking
Please use the link below
Application Booking Form
Places will be limited in order to a) provide a high level of individual support; b) prioritise those whose who had their Icon Adventure to Assisi cancelled due to the pandemic and c) prioritise those already on a waiting list.
N.b., If this course is oversubscribed you will be prioritised for the same course to be delivered at a later date.
Overview
This interdisciplinary course is taught via a weekly live group 'zoominar' (4pm – 5.30pm GMT) and twice-weekly video tutorials (watched in your own time). Further individual mentoring and support will be provided via Whatsapp on daily basis for the duration of the course.
The Three Course Paths
Icon Painting: Working step-by-step, we will each paint our individual icons of St Francis of Assisi, in the western medieval tradition, using traditional egg tempera on panel, according to the method outlined in the 12th century treatise, On the Divers Arts by Theophilus. The focus will be the mid-13th century 'Vita' panel of St Francis attributed to Coppo d Marcolvaldo from the 13th century Italo-Byzantine school, and which is strongly influenced by the iconography of the Orthodox East. (Gilding will be an option for the more experienced.)
Art History: As a group, we will explore the development of the iconography of Francis from the Italo-Byzantine through to the trecento masterpieces works in the Basilica di San Francesco, Assisi.
Pilgrimage: We will be making a virtual pilgrimage through image (art, photography, and video shot on location) to some of the places most important to Francis in Assisi and La Verna. Additionally, we will be considering his life, role and message using the main hagiographic sources by Thomas of Celano and St Bonaventure.
Resources included: Icon pattern, colour copy of image, handouts, access to recorded material for the course duration.
Specialist Materials A professional quality icon board with a bespoke gable-top shape is included in the cost of the course, along with one particular pigment. Participants will be sent a full list of everything else required before the start of the course. Limited supplies of pigment sets will be able to pre-order in advance.
Painting Skills Level This course is particularly suitable for those with previous icon painting or other practical art experience. Those new to classic egg tempera /icon painting are welcome, but should note that these three things: the painting process will take longer than expected, it is not as easy as it looks and the initial outlay for the long list of materials and equipment required could be in the region of £100+ GBP.
Essential IT Requirements Laptop/desktop/large tablet with good audio facility and reliable internet/wi-fi, a smart phone and email. Familiarity with Zoom is recommended but techie assistance is available. N.b., It is not possible to do this course without both a computer and a smart phone.
Payment
No payment will be requested until January 2022 and payments can be made by transfer or via Paypal (subject to a small admin fee for Paypal).Participants outside the UK will be given separate payment info.