This event has taken place. Thank you to everyone who participated!
My next online lecture will be in February 2021 on Trecento Art and the Black Death. Details will be posted nearer the time.
A Seasonal Online Talk by Helen McIldowie-Jenkins
From Cradle to Cave:
The Iconography of the Nativity in Late Medieval Italian Art
Saturday 19th December: 4:30 pm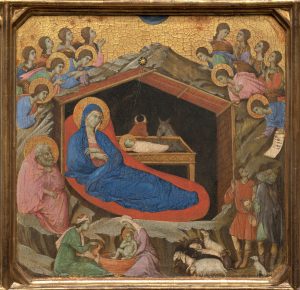 What does the ancient Nativity icon from the Orthodox east actually mean and why does late trecento art show something different? This Illustrated online talk will explore the fascinating development of the nativity image from its Byzantine roots to some of the enduring devotional images of late 14th century Italy.
For those who want to stay online, there will be a Q&A and discussion after the talk, along with the option of a short quiz for the very keen.
This event has passed and cannot be booked