The Man of Sorrows
Four week course – Launching 2022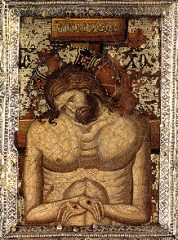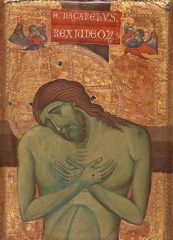 [Both images in the public domain via Wiki]
Four week course of painting and gilding our own version of this fascinating image and exploring its Byzantine origins to its central place in Western medieval art and Franciscan devotional art in the 13th and 14th centuries.
Overview:
This interdisciplinary course will be delivered online via weekly live group zoom sessions and pre-recorded material.You will be directed to complete various stages in advance of each zoom session with remote support provided.
Description: From St Catherine's Monastery in the High Sinai, to Rome, Venice and into the very margins of the Friars' manuscripts, the simple image of The Man of Sorrows, Akra Tapeinosis or Imago Pietatis takes us to a shared heart of Christian iconography, pilgrim legend and affective piety.
Painting: Inspired by two very different 13th century icons; a late Byzantine micro-mosaic and a Dugento painting in the collection of the National Gallery London, we will paint our own interpretation of one of these 3/4 length figures in egg tempera. Various methods of gilding will be introduced as well as two traditions of painting faces, hands and flesh etc.
Learning: As a group, we will explore and compare the functional, iconographic and formal aspects of the Byzantine icon and it's Italo-Byzantine and Trecento counterparts.
Contemplating: On the spiritual side, we will think about the Passion story through the Franciscan filter of the Meditationes Vita Christi
Booking: Please email to request a booking form. Places are limited and priority will be given to existing Icon Adventures clients.
Resources included: Icon patterns, colour copies, handouts, continuing access to recorded material.
Specialist materials required: There are options on the type of painting ground/support and paints you can use for this project, according to your level and budget. A list with further details will be appended here soon. Participants will be sent a full kit-list before the start of the course.
Level: The course is best suited to those with some painting experience, and those new to icon painting should note the there will be a (long) list of materials and equipment to obtain and the painting process will probably take longer than expected.
Platforms, Delivery & Support: The courses will blend live Zoom sessions and pre-recorded content,supported via Google Classroom and Whatsapp. Details of how to access the Google Classroom resources will be sent in advance. Individual mentoring will be available via zoom and Whatsapp.
IT Requirements: Laptop/desktop/large tablet with good audio facility and reliable internet/wi-fi, a smart phone and email.
Equipment and Materials: Participants will be sent a kit-list to get together before the course and details of how to access resources on the private Google Classroom.
Icon Boards: Students will be able to buy professional, gessoed icon painting boards direct and exclusively from reserved stock. Please see the Icon Painting Supplies page for more details.