Icon Adventures joined the Trustpilot community in May 2021. Read the reviews for our first online course 'Get Ahead with St Peter'


WALSINGHAM:
22nd-27th August, 2021.
Fully Booked
——————————
ASSISI: 6th-16th September, 2021.
Fully Booked
——————————
ICON ADVENTURES ONLINE:
'Get Ahead with St Peter': Dates for late 2021 to be confirmed soon
——————————-
Sacred Art in Sacred Places
'This has been an excellent workshop. Well balanced level of help and demonstrations and being allowed to 'just get on with it'. Helen has been very encouraging and giving of her time and expertise. Very intense but very enjoyable too!'
M.R-H from Norwich (Walsingham 2019)
Specialist Residential and Online Art Retreats for Icon Painting and Late Medieval Italian Art. Designed and delivered by professional British Iconographer, Educator, Trecentista and Secular Franciscan, Helen McIldowie-Jenkins, M.A.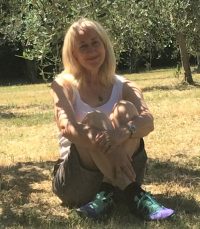 'Helen was both a dedicated and superb tutor but is also inspirational! God willing I'm off to Assisi next year for the 11 day Adventure!'
J. C from Walsingham (Walsingham 2019)
'Join me in sharing the joy of icons and a passion for sacred medieval art. These residential retreat courses are totally unique in combining icon painting, art history and pilgrimage. Small groups are guaranteed and numbers are strictly limited to ensure quality of experience. All of the courses are suitable for Beginners and Improvers and I am proud to offer specialist niche tuition at affordable prices.'
_____________________________________________________
Walsingham: Icon Painting Intensive, 22nd -27th August 2021
Summary: 6 day Residential Icon Painting Retreat for Beginners and Improvers, with particular focus on developing drawing and painting skills using traditional icon painting techniques in egg tempera. The 2021 course project will be an icon of Our Lady of Walsingham. Includes 5 nights Half Board accommodation with adjacent Studio facilities at the Anglican Shrine of Our Lady Walsingham, North Norfolk. Group size: 7 participants max + tutor. Course now in it's 9th year. Click on the Walsingham tab above for full details of this very special icon painting pilgrimage in 'England's Nazareth'.
_____________________________________________________
'I felt this was an excellent and high standard of art tuition at university level of presentation. Tutor was knowledgeable at exceptional level and an excellent guide at religious historical sites.'
JP (Assisi 2017)
Assisi: Franciscan Art & Icon Painting 6th – 16th September, 2021
Summary: 11 day Medieval Panel Painting course focused on early Franciscan art and it's fascinating intersection with 13th-14th century Italo-Byzantine painting. Includes 10 nights delightful B+B accommodation in central Assisi with adjacent Studio facilities, specialist materials and a Franciscan pilgrimage itinerary. Minibus transfers available to and from Rome Fiumicino airport. Flights not included. Group size: 7 participants max + tutor. Course now in it's 9th year. Click on the Assisi tab above for full details of what has been described by several clients as 'the trip of a lifetime!'
Icon Adventures Online: Get Ahead with St Peter
Summary: This online interdisciplinary course will be delivered over a two week period and focused on establishing and dramatically improving classic egg tempera painting skills in the Byzantine tradition. The course will also provide a solid understanding of the chosen icon of St Peter through an art historical journey from Byzantium to Trecento Italy. This unique course will be delivered entirely online via pre-recorded and live interactive sessions with a high level of individual support. Click on the Online courses tab above for more info.
'An ordinary person can reach a high level of icon painting with Helen's dedication to helping each student achieve his/her best. I am deeply satisfied by this course'
V.C from Indiana, USA (Walsingham 2019)
_______________________________________________________